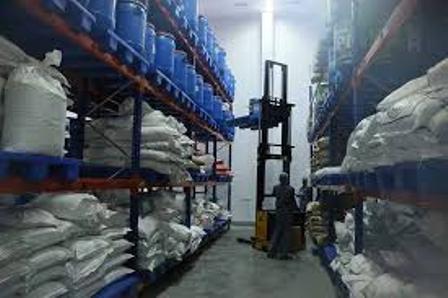 Receipt, storage, issue, return of incoming materials to pharmaceuticals manufacturing
Many mis-formulation incidents commence with the wrong issue of starting materials or other chemicals from the store.
The GMP rules clearly state that each issue of starting materials from the store must be accompanied by requisition paperwork and that there is a cross-check that issues match the documented request before being issued.
Receiving, storage, issue and return procedures of a GMP site shall be designed to ensure the identity, quantity and conformance to Specification of each shipment of each Supplier Lot of material.
The reason for this requirement is that material issue is the first point of control inside the factory. It is much better to prevent incorrect chemicals being issued in the first place rather than finding them (or not) later on. Mis-formulation can cause patient medication to be unsafe, which can result in serious injury or even death of patients.
One of the most important aspects of GMP is to ensure that the right raw materials are received and that the correct raw material batch is issued to production to commence manufacture.
Mistakes in this activity can have significant consequences for patient safety, or cause batches to be rejected. Therefore, the utmost care must be taken when receiving, logging in, storing, and issuing of raw materials.
Receiving of Incoming Materials
Raw Materials, Components and Packaging Materials shall, upon receipt, be Verified by examination of receipt records and inspection of Labelling and materials to be:
Free from apparent physical damage and contamination;
The proper material correctly identified; and
The correct quantity, according to the matching Site purchase order.
In addition, for bulk raw materials received in bulk carriers (e.g. tank trucks or railroad tank cars) that are not pressurized, tamper-evident seals shall be verified as being in place and intact on openings and on capped discharge lines. Where the bulk carrier may also be used for transport of other bulk materials (i.e., non-dedicated tankers), evidence of cleaning (e.g., cleaning certificate) from the prior load shall be examined.
Materials not meeting the above requirements shall not be accepted and quality team should immediately be notified about the unacceptable material.
Following a successful inspection or examination, the received materials shall be promptly stored under quarantine status and subsequently sampled by qualified personnel.
Materials with direct or potential product contact, such as process or product filters, filter aids, cleaning agents, and lubricants, shall be received in the same manner as raw materials, components, and packaging materials. Sampling and testing requirements for these materials shall be defined by the purchasing specification.
Each supplier lot of either raw materials, components, or packaging materials shall be assigned a raw material lot number, component cot number, or a packaging material lot number, respectively, for each shipment of each supplier lot received.
Raw materials, components, and packaging materials shall be received for use in site products only if they are purchased from approved suppliers.
Intact container seals and the absence of container, damage or evidence of contamination shall be verified for materials received in bags, drums, or any other container except bulk carriers (e.g., tank truck or railroad tank car) during or immediately after unloading of each container or group of containers.
Containers or lids shall be cleaned prior to opening or use (e.g., for sampling). Unprotected areas of product contact surfaces of discharge chutes, line, or hoses used for unloading bulk carriers shall be cleaned prior to unloading.
Labelling for internal production control shall be completed after receipt and before sampling, and should display the following information:
Name of the material per specification;
The site material code; and
The site Lot Number.
Complete Records for the receipt of materials shall be kept for each shipment of each lot and shall include the following:
Purchase order copy;
Packing slip or delivery note;
Identity of the material by its name in the specifications;
Total quantity and number of containers received;
Supplier name and supplier lot number, if available;
Name and location of manufacturer, if known;
A Site lot number assigned to each shipment of each lot (to be used for recording Disposition, use, and reconciliation of the shipment);
Date of receipt and the name or names of qualified personnel who received the material; and
Relevant comments made by personnel during receipt.
GMP commences on receipt of the raw materials from the supplier. Raw materials must be checked that they are intact, have been provided according to the paperwork, and that labels identifying name, batch number, and expiry date ere present.
Sampling and testing
Laboratory sampling and testing confirm that the raw material received meets the company specifications for quality. There are specific GMP procedures for sampling of raw materials to protect the sampler and to protect the batch from environmental contamination. 
Status labeling
On initial receipt, raw materials should be labeled "Hold" or "Quarantine", and once they have passed QC testing, raw materials should be re-labeled "Released" or "Rejected". It is important that the storage location matches the status of the raw material. GMP requires that only "Released" raw materials may be used in production. 
Storage
When raw materials are stored, they may deteriorate if they are exposed to elevated temperatures, moisture, or are stored directly on the floor, or are in contact with walls. GMP requires that only authorized personnel are allowed to remove raw materials from storage. 
Issue
Raw materials are issued against documentation or requisitions provided by the company. GMP requires that all issues of raw material are accompanied by the correct paperwork, so that there is no potential for mix-up. Incorrect selection of a raw material may result in significant problems in manufacture, or put the patient at risk. 
Approving suppliers
Pharmaceutical companies are required to maintain an approved supplier list, and starting materials may only be purchased from supplies on this list. When the shipment and paperwork arrive off the delivery truck, the receiving person should check that the supplier is on the approved list. Shipment from non-approved suppliers must be set aside and notified to supervision immediately.
Some of the factors that contribute to a supplier being approved are:
Completion of a supplier questionnaire
Successful purchasing and QA supplier audits
Laboratory verification of quality by testing samples
Provision of an authentic Certificate of Analysis (C of A) verified by the laboratory.
On-time delivery
For a supplier to remain on the approved supplier list, they must have a good history of acceptable deliveries (e.g. 3-5 consecutive approved consignments). 
Chemical name
Many raw materials have similar and sometimes confusing names. For example, "Ergotamine" can be confused with "Ergometrine", which are two very different drugs. Similarly, the same item can be called by different names by different suppliers, for example, "sodium chloride" can be called "sodium salt".
Pay particular attention to the names of the material being delivered. Sometimes a supplier can mix up a delivery and send the wrong raw material with the right purchase order.
Always double-check the name of the product needed against the paperwork of the supplier. 
Standard Names Register
GMP rules requires companies to have a Standard Names Register matched to a unique standard company item code. The purpose of this is to ensure that everyone in production uses the same terminology to ovoid confusion. These names and codes should match the Master Bill of Materials.
When labeling starting materials, always use the company standard name and matching code. 
Approved supplier
The purchasing department usually only purchases from QA-approved suppliers, but occasionally there may be a mix-up.
Always double-check the supplier origin to make sure that the supplier is on the approved supplier list before accepting the delivery. 
Grade of material
The purchasing department only purchases QA-approved grades of chemicals, such as USP, BP or EP graces. The grade should be printed on the supplier label next to the name.
Double-check the grade against the purchase order and supplier paperwork before accepting the lot. 
Multiple lots on one delivery pallet
Sometimes, different lots of the same material or different materials arrive on the same suppliers pallet. Often, the outer containers look alike as well. This can be confusing.
Always double-check each container and physically separate them from other lots, even of the same material on receipt. Make sure that different lots are not mixed up, because it is unlikely that this problem will be picked up later in production.
The Material Data Safety Sheet (MSDS)
An MSDS is provided by the supplier, and is designed to provide both workers and emergency personnel with the proper procedures for handling or working with a particular substance.
MSDSs include relevant information for the GMP warehouse on:
Health effects and first aid
Storage
Disposal
Spill/leak procedures
The MSDS is meant for:
Employees who may be exposed to hazards or who need to know the proper methods of storage
Emergency responders (firefighters, hazardous material crews, emergency medical technicians, emergency room personnel)
For safety responders, therefore, it is important for warehouse staff to be cognizant of the materials coming into and going out of the warehouse.
Storing received materials
After receiving the material there are some essential GMP tasks that should be undertaken before storage:
Remove the supplier's status labels.
Apply the company's identification and status labels.
Record the receipt of goods on company documentation.
Quarantine materials immediately after they have been accepted.
Check and process goods as soon as possible to help prevent material mix-ups and damage.
Only in rare circumstances should quarantined materials be used in production. If this is to happen, there must be very strict controls in place in case of a recall.
Receiving printed matter
When dealing with starting materials, direct control over product quality begins when the starting materials first arrive at the inward goods receiving boy.
The same principles apply when printed matter arrives at the manufacturer. Inward goods must ensure that the right printed matter is received, so that the correct printed matter is eventually released to the packaging area. When the printed matter arrives from the printers, it must be given its own UIN, and then be placed into quarantine.
Following receipt and quarantine, printed matter is examined and verified by QC against standard specimens and specifications, in order to avoid any mix-ups or errors. Since many labels, cartons, and leaflets look alike, it is important that QC personnel take particular care in both sampling and testing. Packaging and labeling samples should not be returned to inventory.
Only after printed materials have passed inspection should they be released for use.
Sampling plans for printed material
Sampling plans are used by QC in order to specify the number of samples of printed matter to be taken. There are several types of sampling plans QC use, e.g. statistical, targeted, and zero acceptance number Although QC use all of them for printed matter in some respects, the reasons why each are chosen is beyond the scope of this module.
Suffice it to say, sampling plans for printed matter account for at least the following:
the quantity and quality of printed matter received
the quality of printed matter required
the nature of the material (e.g. primary and/or printed materials)
the production methods
an audit of the printed matter supplier
Arrival
Roll labels must be counted either on receipt or at issue
Supplier counts are not acceptable unless the supplier is specifically qualified and supplier certifies the exact count for each roll.
Supplier numbering of labels is an acceptable alternative.
Cut labels must be counted and effectively verified by the manufacturer because of the risk of mix-up.
Quarantine
Printed matter must be quarantined from use until it has been thoroughly quality-controlled.
Quarantining involves placing the received material into a locked, separated store, secure from unauthorized access.
All personnel, when they handle printed matter, should double-check that the "Quarantine" label has been replaced by an "Approved for use" label. If it hasn't, do not use the printed matter.
QC
Printed matter must undergo QC inspection in the same way as starting materials.
Each company will have specific sampling plans for different printed matter, e.g. labels, product information leaflets, cartons.
Printed matter samples are compared directly to official, company-approved sample standards.
During inspection, printed matter must be stored in quarantine and not issued for use.
Printed matter must be released by the inspection team, and status-labeled "Approved" before it can be used.
Issue of materials
The issue of approved materials must be performed only by designated staff. Other staff should never "help themselves". If an incorrect materiel is issued, a disaster such as a mix-up or product failure may follow.
Here are some important GMP rules regarding issue:
Materials should only be issued from the store by authorized persons following a written procedure.
Records of the quantities receipted into stock and the quantities issued to manufacturing must be maintained.
Inventory records should be maintained in such a way that any discrepancy between the quantity received and the quantity issued can be clearly seen.
Discrepancies are to be reported and investigated.
It should also be noted that when transferring goods from the warehouse to production, all goods must come off wooden pallets and onto plastic pallets. 
Computer control of release
GMP allows for a computer system to control status and allow release to manufacturing. If computer systems are in use, they must be validated and secure. Ensure that you know your computer system procedures and security controls.
Only QA- or QC-nominated personnel can change the status of material to "Released", but every company has specific GMP rules in this area.
Stock rotation
GMP rules require that starting materials, printed matter, and primary packaging be rotated, so that materials that may be time expiring or degrading are not left in the store for use. Companies ate required to practice a "FIFO" policy. FIFO (first-in first-out) traditionally means the first stock that arrives is the first stock picked for use. In practice, many companies actually use "FEFO" (first-expiry, first-out), implying that the materials with the shortest expiry must be used first.
For finished product, the FIFO principles also apply. Customers often will reject stock that has a short-dated expiry.
Warehouse staff should be aware of this policy and follow the company's written procedures. When selecting stock, always check its expiry date to ensure FIFO principles are adhered to. It in doubt, refer to management.
Monitoring stored materials
Starting materials should be retested or re-examined after long storage or after exposure to adverse conditions. Stored starting materials may not be used for extended periods. If stored correctly, under controlled temperature conditions they will be good through to expiry date.
Sometimes, the laboratory will want to retest materials before continuing use. This is usually a precaution for materials that could, for example, pick up moisture on storage.
Rejecting defective and expired materials
Starting materials and packaging materials may not meet qualify standards on receipt, or may reach their use-by date ("time expire") during storage. GMP rules require that there are written procedures for the handling and rejection of materials that are defective or have time-expired.
Expiring starting materials
It is not uncommon for starting materials and finished products to reach their use-by date. Many companies have specific rules about only releasing finished product that has, for example, over 50% of its shelf life remaining, because customers may reject it as having too short a shelf life.
Companies also have rules regarding the receipt of "short-dated" starting materials. Management should be alerted if incoming goods have, for example, less than 75% of their expiry period left, Check your company procedures regarding this policy. GMP rules then require that the expired stock be securely disposed of, so that there is no chance it finds its way back into manufacturing or onto the market. There should be specific secure disposal procedures in place to control this activity.
On rare occasions, subject to strict QA approvals, permission may be given to extend the expiry of starting materials, provided they meet retesting by the laboratory.
Finished product Release
Customers of pharmaceutical products expect to receive a product that is not only manufactured and packaged correctly but also one that arrives in good condition. Warehousing, transport, and distribution procedures play a vital part in protecting the product all the way to the customer.
Release to Quarantine
After manufacturing, the Packaging Department checks that all the batch documentation is complete and accurate, and
the product has been correctly packaged and labeled.
The batch is then assigned to the Quarantine area in the warehouse.
QA clearance
GMP rules require that Quality Assurance conduct a final audit or clearance of the manufacturing and packaging records. This is to independently verify that the product has been correctly manufactured, packaged and tested.
If there are any questions or unresolved issues with a batch, QA will hold up release of the batch until these remaining issues are closed out.
Preparation for dispatch
The warehouse team will receive a picking or dispatch order for either the whole batch or for smaller portions of the batch. At this time, it is critical to cross-check the order against the batch details. If any batch still in the Quarantine store is picked, supervision should be notified immediately.
Prior to shipment, the order must be protected from possible transport damage or deterioration (e.g. addition of outer packaging, shrink wrap of pallets, labeling of transport temperature conditions).
Preparation for transport
After QA has officially released the finished batch, it may be moved from the Quarantine to Released store (and labeled as such), making it ready for dispatch to other warehouses, hospitals, distributors, or retail outlets.
Transport
The quality of the product can be affected by incorrect transport. The product may be damaged if it is not protected from rough handling or adverse temperature conditions. Some product may also be sensitive to vibration, changes in atmospheric pressure, or freezing or thawing. 
Release and distribution
Things can still go wrong in the warehouse even after the batch has been successfully manufactured, packaged, and sent to the Finished Goods area for release. For example, goods may inadvertently be released before they are officially passed by QA, or they might be physically damaged in the warehouse, they can pick up moisture or dirt, or they could be dispatched to the wrong customer.
Worse still, goods that were returned from the marketplace because they were defective may unintentionally be placed back into stock without quarantining and checking by QA.
Some things to be aware of when preparing to dispatch product include:
When dispatching, goods must be checked and double-checked against the paperwork. Check the authorization on the requisition, the released status, the item name and code, and the integrity of the container.
Only the right quantity of the right products should ever leave the warehouse,
Ensure that the oldest material is issued first (FIFO).
Maintain appropriate dispatch records to ensure that each lot of product can be recalled if necessary.
Dispatch records
Invoices or packing slips should be issued for each delivery and should accompany the goods.
Records should be maintained in such a way that they are clear and readily available. Records should show the receipt and disposal of all products purchased and sold.
Distribution records should be kept in a form which is accessible to the regulatory authorities. 
Pick and pack
When picking and packing finished product, there are several checks of the product against the paperwork that need to be made. 
Verifying the correct customer
Verifying the product and strength
Cross-checking the dispatch order batch number
Verifying the product is within expiry
Verifying the dispatch order quantity
Ensuring that packing instructions are correct

Transportation
Things can go wrong during transportation and distribution. For example, product may be counterfeited or substituted in the distribution chain, or it could be damaged by the environment in which it was transported. These situations may cause the product to degrade or otherwise lose quality. 
Validation of transportation conditions
Many companies validate their transport conditions to see if there is are potential problems with long-distance transit. Once conditions are validated, it is normal practice to include continuous temperature monitoring devices on all consignments that are moved long distances, particularly if they have any sensitivity to heat or cold. These monitoring records are then used to check that there were indeed no transport issues, keeping the product safe.
Handling Returns
Once a product leaves the control of the warehouse, it is subject to the possible impact of transport mistakes and uncontrolled warehouse conditions. Many medicines can degrade if heated or frozen even for short periods of time. These issues particularly apply to biological products, vaccines and products that are labeled: "Store 2°C – 8°C. Do not freeze."
For example, product that is required to be stored at 2°C – 8°C may degrade if it was stored at more than 1 S°C for any period of time. If the product was frozen and then thawed, it would be very hard to detect this physically, and it may make the product unusable.
GMP rules require that returns be assessed formally before any decision is made to return them to stock.
Customer returns
Customers may return stock because it is oversupplied or incorrectly delivered. However, it is not safe to assume that stock could be suitable for re-sale. There is generally no way to tell whether the return has been tampered with, degraded in transport or storage, or has been damaged in transit.
GMP rules require that all returns be examined by the Quality Department and if necessary re-tested, before they can be placed back into stock. In some cases, if there is no way to tell if returned products have degraded, they must be destroyed.
Products earmarked to be reissued must be kept separate from the rest of the stock until they are investigated. They may be returned to stock, only if the goods:
Are in their original containers, unopened, and in good condition
Are known to have been handled and stored correctly
Have an acceptable shelf-life remaining
Have been assessed by the appropriate, authorized personnel
Records must be kept of these returns, and if they are returned to stock, FIFO must continue to be observed. Medicines that are unfit for sale must be stored separately, and disposed of in a secure method (e.g. incineration).
How to assess customer returns
The assessment of customer returns should take into account the nature of the goods, and any special storage conditions they may require. If necessary, advice should be sought from the person responsible for the quality assurance of the manufactured product.
Considerations for handling the return of non-defective stock include:
Place a limit on the return period (e.g., 3-5 days from customer receipt).
No returns of "fridge lines".
Communicate the company's policy to customers,
Use a clear returns document that requires customers to include the product's batch number and expiry date.
Have detailed procedures on how to handle, locate and identify returns.
Ensure warehouse staff are trained to the returns procedure and how to separate each return.
Ensure the returns procedure includes a detailed physical inspection, and if necessary, a laboratory test to verify that the goods are "safe" to re-issue.
Maintain a product returns register showing dates, batch numbers, amounts and condition of the return. This register is needed for later investigation if there is a problem.

Managing recalls
It's almost inevitable that a company will experience a recall at some point. GMP rules require that the warehouse (and the company) is prepared by having a tested or validated recall procedure, which details how defective stock is returned, registered, counted, securely separated, and securely destroyed.
Recalls must be very carefully managed by manufacturers in order to protect patients and end-users. Risks surrounding recalls include:
The right people not being notified
The recalls not dealt with in a timely manner
Recalled product re-entering the supply chain
Warehouses should have a separate area for recalled stock where recalls from customers are sent to the manufacturer.
Critical to a successful recall is complete and up-to-date documentation showing where each and every part of the recalled product can be located, either within the distribution chain or with customers.
Defective product in the market
In the event of a recall, QA will agree with the regulators on the scope of the recall before the recall is triggered. The recall decision will usually happen very quickly, so the warehouse must be recall-ready at all times. The company should assess the quantity of stock in the marketplace at this time, with the aim of recovering 100% of available stock.
Recall notice Issued
The recall notice will state that the recall must occur at a particular level in the marketplace. Class (I) recalls occur at the consumer level; Class II or III recalls may occur at the retail or warehouse level. For consumer level recalls, there is usually a company hotline to assist customers.
Return to company locations
Defective product will be collected at nominated warehouses. It is progressively checked, counted, and the returns recorded in a recall register. As the recall progresses, the percentage of defective stock is monitored. The recall is continued until 100% is returned, if possible.
Move to dedicated Recall store
The detective product is eventually gathered in one central location in a separate, secure Recall store or location. The recalled material must never end up in the main warehouse.
Destruction
Once the recalled product has been secured, it should be securely destroyed so that there is no possibility it ends up back in the marketplace. Companies should have secure destruction procedures, and the physical destruction should be witnessed or otherwise verified.
Counterfeit products

Unfortunately, it has become prevalent for counterfeit medicines to make their way into the distribution chain. Many of these products look almost identical to the original products, both in drug appearance and packaging. These counterfeit products contain no active ingredients (APIs), and can be dangerous to patient health if consumed. They may even contain poisons.
How to be alerted to counterfeit products
Staff handling medicines in distribution or remote warehouse storage should be very alert for any product that looks suspicious or different to the usual product. If anything seems odd, it should be immediately reported to supervision and placed in quarantine.